We live in an era when many are suffering. Suffering raises questions, demands interpretation, whether it's the suffering of war, of natural disaster, of hatred, of personal tragedy.
Of every possible interpretation of human suffering, I cling to this truth: that Christ promises to share in it, to be with us in it. This is what it means to enter "the fellowship of his suffering"–that he has entered the fellowship of ours.
Earlier this year (2017), Glen Wiffin, a friend and brother at my home church returned from serving several weeks at a field hospital in Mosul, Iraq. He shared the following with our congregation, and I asked him for permission to share it with you.
"Hope Is What Allows Me to Be Here": Suffering with Christ in Mosul, Iraq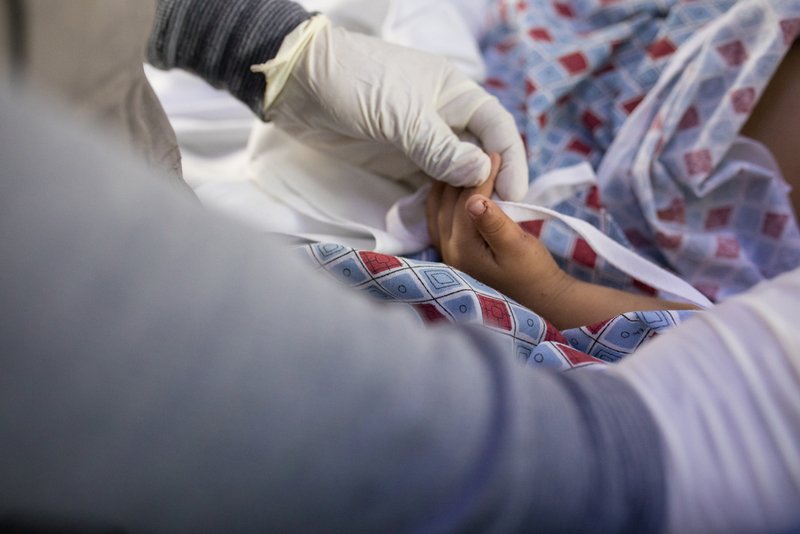 I have been asked by Pastor Marc and Andrew to speak today about my experience serving in Mosul, Iraq, at Samaritan's Purse Emergency Field Hospital.
Before I begin I would just like to read Ephesian 2: 8-10:
 8 For it is by grace you have been saved, through faith—and this is not from yourselves, it is the gift of God— 9 not by works, so that no one can boast. 10 For we are God's handiwork, created in Christ Jesus to do good works, which God prepared in advance for us to do.
I start here so that you know I do not boast but to tell you how God prepared me, and the good work done for him.
As a young man, even before I knew who God was, he was preparing me for just such a mission. I had joined the military before finishing school not because of a sense of duty, but because I had run out of options. It was here that I learned how to serve, first serving man but gradually, as God entered my life, serving him.
When I retired from the service I returned to school to become a nurse. I felt it was a calling and that God had directed me to this profession so that I could help others. After graduating I found myself working in the Emergency Department, where I learned how to treat and care for those suffering from major trauma and violence like horrific accidents and gunshot wounds.
While working as a nurse I still felt the call of God upon me, and I found myself returning to school again, studying Spiritual Care at a Seminary … all the while wondering why God would place me there. As in the words of Thomas Merton, a Catholic monk who said, "I have no idea where I am going, I do not sense the road ahead of me," God was in control, preparing me to use these things on a mission trip in a war zone.
Jump ahead to January this year when [an email was forwarded to me]. It was a request from Samaritan's Purse looking for medical staff to serve as a member of a group providing emergency/trauma care to the civilian population fleeing the battle against ISIS in Mosul, Iraq, the modern name of Nineveh. I knew that God was calling me to serve him there, using all the skills he had provided me with.
I like to joke too that, unlike the last guy God had called to go to Nineveh, I went right away so that I wouldn't be swallowed by a fish.
But this is not the reason I was asked to share. It is only some of the preparation God had done in me to serve him when I was called.
For some, what I will be sharing may be hard. But I cannot talk about my time in Iraq without talking of suffering. Both the physical and emotional suffering that those caught in a war experience. I will try not to share the traumatic details, but I give this as a caution only.
Suffering comes in many forms. I would like to start by sharing an email that I sent while serving:
I know that my time here is for me to help care for the victims of war in the conflict that is going on in Mosul. The thing that stands out the most about the care that I provide is that it is so little compared to the suffering that the patients have seen.

A boy that I was caring for the other night was only 11, but the translator said he did not talk like a boy but like a man. This small child was talking about his dreams, that when he fell asleep he was being shot in the head, and when I offered a cotton, soaked with water, to moisten his lips he was afraid I was trying to poison him. You could see the fear in his eyes, and it made me think of the suffering he must have been through to make him so fearful.

This made me think of the suffering Christ endured on the cross for us and how we can choose to view that suffering. In Luke 23:26 – Luke 24:52, we see many ways to view the suffering of Christ.

We can be like the women who beat their chests and wailed, but when the suffering was over and Christ died, they went away.

We can be like those that had followed Christ from Galilee but chose to just stand at a distance and watch the suffering, unsure of what to do.

Or are we like those that hear of the suffering and say, he brought this on himself and that he should save himself?

Then there are those that can't believe it took place and walk away in despair like the two on the path to Emmaus.

These are all ways to look at the suffering, but they all leave out the hope that we see in the final verses of Luke 24:46. Christ told them, "This is what is written: The Messiah will suffer and rise from the dead on the third day." This changed everything for those who didn't know what to do, giving them hope and a new outlook on the suffering, making them turn around and return to Jerusalem. Luke 24:52: "Then they worshiped him and returned to Jerusalem with great joy."

Hope is what allows me to be here and watch the suffering. Please continue to pray for the people here and for me to continue to see the suffering with that knowledge of hope.
Just as with Christ, who suffered on the cross because of his love for us, all who love will ultimately suffer. Yet God commands us to love, knowing that if we keep this commandment, then we too will suffer. Why would he do this to us?
Often, we feel alone in our suffering, but this is where God convicts us and moves us toward intimacy with Christ. When we suffer, there is always union with Christ. We have Koinonia "togetherness." This is what God wants for us: community with him and others.
In Genesis 2:7 we read, "The Lord God formed a man from the dust of the ground and breathed into his nostrils the breath of life, and the man became a living being."
That word "breath" that is used is the Hebrew word "Ruach" The same word that refers to the Spirit. So even in the beginning, the Holy Spirit was a part of the community between man and God.
This Spirit is the same Spirit that is transforming us so that we might be in union with Christ, conforming us to do the work of Christ.
While I was caring for a young man that had shrapnel wounds to the neck, I was struck by how dirty his feet were. Once we ensured he was stable, I found myself drawn back to his feet, so I grabbed a basin and some warm water and washed them clean. I am not sure in all my years of nursing that I have ever been so compelled to clean someone's feet.
The most interesting thing was that with all we did in providing care for this young man, it was the fact that his feet had been washed that he seemed the most thankful for.
Even though I have left the war zone, I remain in the same battle. Not one against flesh and blood, but against principalities. In this battle, we must remain strong, dressed in the full armour of God (Eph 6:11). I realize that I may have left a small part of me there, but it pales in comparison to what I have taken away.
I hope I have given you a small glimpse of what it is that I've experienced. For those here, the story I have told will continue to emerge in small random bits as I strap on the belt of truth and the breastplate of righteousness (Eph 6:14).
One thing I can tell you, though, is that while there I caught a glimpse of Christ. For in order to conform to the image of his Son (Rom 8:29), it involves us entering into suffering that results from worldly resistance and hostility. This is how we pursue love in this fallen world.
True compassion like Christ is to love as He loved, to give without expecting anything in return, to welcome sinners as He welcomed them, to love even our enemies.
All of this I saw and experienced with the people I worked alongside. Please continue to pray for the people there that have entered into the suffering with the knowledge of hope.
— Glen Wiffin
#
Photo courtesy of Samaritan's Purse, https://www.samaritanspurse.org