Already a member? Access the club or log in here.
You care about what you read.
You know that when you read, you go somewhere very real in your imagination. Somewhere that enriches or impoverishes you. Somewhere you get in touch with reality on a deep level, even though people call it "escape." Somewhere that can change you.
Like Narnia changed you. Like "This Present Darkness" changed you. Like all those books you devoured as a kid changed you.
But finding fiction you can trust, fiction you truly want to read, is hard.
So you're stuck wading through shelves of books that you're almost afraid to try. Because so many won't be worth it. Because some will be even worse than not worth it--they'll make you feel like you've been wading through moral muck or drinking gasoline.
But you must read. You're a reader. You read like you breathe.
And a book that's worth it? Is SO worth it.
So the search goes on.
But imagine having somewhere to go, where you know you can find something to read that will make you think, take your breath away, deepen your prayer life.
Something that aligns with biblical values and takes you on a journey through the landscapes of truth, but with a lot of imagination and unexpected turns along the way.
Something that doesn't just entertain, it changes you.
Something you might even want to share with your kids or grandkids someday.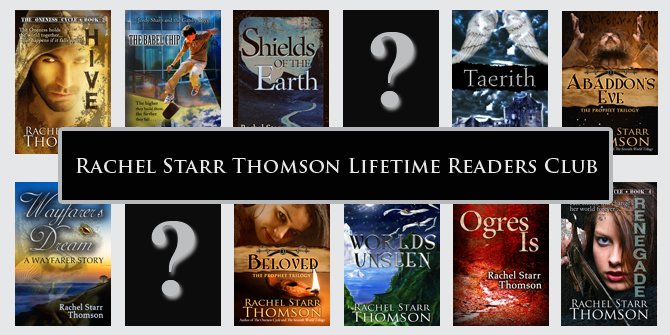 I'm Rachel Starr Thomson. I'm a reader, like you. I'm also a writer. Of course, how I became a full-time writer is a long story. How I became a full-time writer with a mission to change the world through fiction is even longer. I believe with all my heart that fiction is powerful. It's creative--it creates things in the READER. That's why Jesus told stories.
It's my goal to write beautiful, thought-provoking, wonder-inducing stories that open our eyes to reality in new ways. I want my readers to see themselves, God, and this world we live in more truly and powerfully than ever before.
As of January 2018, I've written 18 novels and 10 short stories. I'm working on the nineteenth novel right now. You can buy them individually, as ebooks or paperbacks, pretty much anywhere that books are available online. My books have hundreds of four and five-star reviews (last I checked). I hear from readers all the time that they are connecting deeply with these stories--and enjoying them too :).
Of course, if you buy them all individually, you have to pay full price for all of them. Not only that, but you have to remember to go back and check to see if anything new is out. And you have to download them all in one format ... and then if you switch one day from Kindle or Kobo, you've got to re-download them for a new library.
There's an alternative. It's called the Lifetime Readers Club.
Simply put, when you buy the club, you get access to all of my fiction, in multiple formats, forever. New books are added to the club page whenever they're published, so you get access instantly.
For one discounted price.
Membership in the Lifetime Readers Club is just $79.99. The price tag means you're already saving $40 off of buying the books individually, but here's the real deal: the price of membership will go up with every new book I release, so this is the lowest membership will ever be ... and the value will only continue to go up.
(And yes, if you like, you can buy a membership as a gift for the avid reader in your life.)
Claim your $79.99 lifetime membership now.
Just click the "Buy Now" button below, enter your payment details, and set up a password, and you will get immediate access to all of my fiction ebooks--18 novels and 10 short stories--downloadable in multiple formats from this website. With your special log-in credentials, you can come back anytime you want for more.
30-Day Money-Back Guarantee

You can get full access to the club for 30 days. If you want your money back at the end of that time, just let us know and we'll refund you--no hassle. Yes, we know this is a risk on our part. You could download all the books and just keep them. But we're willing to bet on your integrity so you can see if the club is right for you.